Learning Never Exhausts the Mind
More Good Stuff
Complimentary White Papers, Data and More...
U.S. Commuter Data for April 2014
How many people commute to my county and from what counties do they commute?
What top 20 counties do people commute from when commuting to my county?
Which nationwide counties do people commute to that live in my county?
How can I see indications of the labor market shifting across the nation?
The complimentary AirSage Nationwide Commute Report answers all of these questions by providing key insights into commuting patterns. This data provides the total number of people who have a "home" location in one county and commute to a "work" location in another (or the same) county.
Get The Complimentary Nationwide Commute Report
2014 Transportation Survey Results
This year we not only measured change in the industry by asking the same questions as last year, but also explored some areas new to the survey.
We break down issues by different types of government agencies – local, state and federal – as well as by role in the industry. Every year, we hope to expand this survey to provide an even more complete picture of the industry and its people.
Get the 2014 Transportation Industry Survey Results
Using Cost Effective Technology to Analyze Regional and Rural Locations
Passive data collection has captured considerable attention from transportation planners over the last several years. These new technologies, including the ability to compile data from large numbers of mobile devices, are starting to transform the travel planning landscape, and non-urban areas may reap the greatest benefit. For the first time, cellular data allows less-populated areas to develop travel models based on actual, current, local data rather than purely synthetic model.
New passive technology (e.g., the collection of anonymous signals from mobile devices) provides new options to planners. This paper covers the highlights of a recent in-depth study, "Reconciliation of Regional Travel Model and Passive Device Tracking Data" by Leta F. Huntsinger, PhD, PE, and Rick Donnelly, PhD, AICP of the Parsons Brinckerhoff Systems Analysis Group.
A Comparative Review of Data Collection Methods
The traditional "gold standards" in compiling origin-destination data—household travel surveys, vehicle intercept surveys and license plate surveys—are being supplanted by new technologies.
This white paper documents these emerging trends that are transforming the transportation industry. It examines traditional methods plus new, complementary technologies at the forefront of transportation planning today including Bluetooth technology and cellular.
New technologies offer affordable, effective options for augmenting, and even replacing, traditional methods of traffic data collection. But also find out how combined studies can sometimes prove to offer the best results.
AirSage Data Solutions Guide
AirSage mobility data can provide round-the-clock commuter patterns, resident and visitor trips by trip purpose, historical or current data, activity patterns for a specific development, POI and more.
View our Solutions Guide for information on how we can help solve for local and regional planning data, toll roads, facility planning and transit.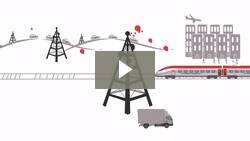 Population Analytics: AirSage Video
Mobile Signals to Actionable Information
Check out this sweet video for an overview of AirSage technology and how we're revolutionizing the transportation industry using mobile signals.
Click the image above to view the video
case
STUDIES
"Bay Area Rapid Transit (BART) used AirSage data to identify two possible markets: people who traveled from the city of Livermore to the Bay Area and people who traveled from the San Joaquin Valley (farther East of Livermore) to the Bay Area."
—Andrew Tang, BART
Read what others have to say about their success with AirSage...

<!— end olark code -->