BETTER INSIGHTS, FASTER AND AT LESS COST
population analytics from airsage
Faster, less-expensive and dramatically better insights into where and when people move. That's AirSage population analytics for transportation planning!
AirSage—a pioneer in population analytics—is the largest provider of consumer locations and population movement intelligence in the U.S.
Each day, AirSage uses
patented technology
to capture and analyze more than 15 billion
anonymous
, real-time, cellular-signal data points to identify travel patterns and transportation trends. Partnerships with the nation's largest wireless carriers give AirSage exclusive access to data from more than 100 million mobile devices.
our
products
| | | | |
| --- | --- | --- | --- |
| | Accurate data on the number of people and types of trips between two specific locations | | Actionable intelligence about the number of people who live and work in specific locations |
| | Current information about the number of people and types of trips that go to, or come from, a specific location | | Insight into the number of people that go to, or come from, a specific location by time of day |
what does this mean for transportation planning?
Transportation professionals are looking to capture more accurate population movement data. You need to develop creative, cost-effective and innovative transportation solutions to improve communities. The traditional, "gold standards" in compiling origin-destination data—household travel surveys, vehicle intercept surveys and license plate surveys—are expensive, time consuming and provide limited information. These are being replaced and augmented with digital mobility data from AirSage to provide unprecedented insights.
Many of our clients have seen great
success
. In addition to long-range transportation / travel demand model updates, AirSage data can be used for:
Toll road, HOV & HOT projects
Transit and air quality studies
Understanding commuter patterns
Logistics improvement and predicting cut-through traffic
Developments of Regional Impact (DRIs)
Special event mitigation planning
Reducing traffic flow restrictions, congestion and transportation system bottlenecks
Determining if proposed roadways will offer improvements—or create new problems—for local communities
Improving queuing patterns of vehicles on streets and highways
AirSage mobility data can provide you with round-the-clock commuter patterns, resident and visitor trips by trip purpose, historical or current data, activity patterns for a specific development or POI and more.
Take a look at our
solutions guide
for more information on how we can help you solve for local and regional planning data, toll roads, facility planning, transit and more...
Tweet
If you prefer a .pdf version of our eBook, you can download that
here
.
Access to mobile device signalling data has shown great promise for solutions to many challenges associated with data collection – including a more cost effective method of gathering more and better data.
THAT'S THE POWER OF WHERE AND WHEN.
Quick
Facts
Watch the AirSage Population Analytics Video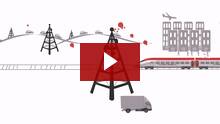 "Now we have a thousand times more data. The prices are generally comparable. In the future, we'll do less of the traditional method."
—Mike Wallace, Fehr & Peers
Read what others have to say about AirSage...
<!— end olark code -->