Streetlytics
all The power of AirSage
and citilabs in one product
Directional Volumes
Demographic Flow
Trip Patterns
API and On Premise Solution
Streetlytics a joint product by Airsage and citilabs
Streetlytics offers private and public sectors the opportunity to benefit from petabytes of location data and decades of analytics software development to push forward their lines of business into the age of location information. This is invaluable information for state, regional and local governments; insurance companies; real estate firms; banking and financial institutions; and advertising agencies of all sizes. For these industries, accurate data is often impossible to find, and the cost is typically difficult to justify.
For any road segment in the country, Streetlytics provides deep insights into traffic volumes, origins and destinations, speeds and driver demographics for any road segment or location in the United States.
AirSage and Citilabs have been operating in the population movement analytics for a combined history of more than 30 years. AirSage has been perfecting the art and science of converting big data mined from telecom carriers into population analytics for nearly 15 years. During the same time, Citilabs developed a core competency of helping transportation agencies measure and understand travel through cities, states and regions.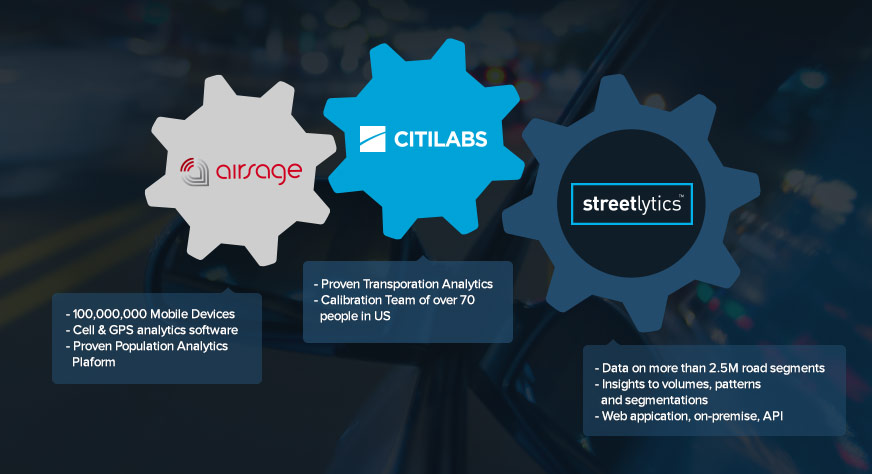 Contact us
For more information please visit Streetlytics website or for a free demo please send an email to contact@airsage.com and one of our Streetlytics experts will get back to you as soon as possible.
Quick
Facts
Michael Clarke, Citilabs President and CEO..
"These two companies have come together to bring a product to the marketplace that now leverages both AirSage's massive insights with the Citilabs intelligent network analytics engine. Fast location updates with typical latency of less than one second for single or multiple device locations. It's exciting to partner with AirSage to offer this superior traffic insights solution that is extremely accurate, affordable and available in a variety of formats depending on the business need."
User Friendly Interface
Point and click instant access to traffic volumes, flow quality, demographics and segmentations
API
Easily incorporate all the powerful Streetlytics insights available today into your own transportation, retail, real estate, out of home advertising or insurance applications
On Premise Solution
The streetlytics product can also be delivered as an on premise solution where needed.

<!— end olark code -->