AirSage taps into the power of billions of location signals. We extract geospatial insights from raw data using a patented big data approach. Our team leverages the experience of 20 years as a market innovator to deliver industry-leading accuracy.
We offer multiple products and insights to serve the different needs of our clients.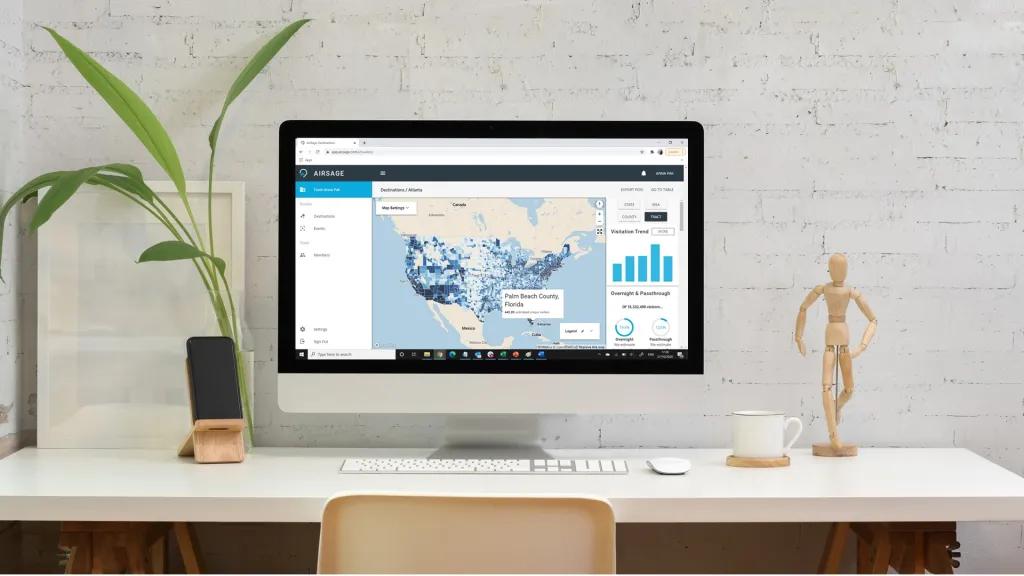 Quantitatively describe the trip patterns between multiple zones in a given area. Each trip matrix includes a wide array of attributes for person trips like origin, destination, and home zones down to a census block group.
Nationwide Trip Matrix attributes include:
Origins, Destinations, and Home Locations;
Time-of-Day and Weekday Segmentation;
Resident / Visitor Classification;
Trip Purpose Classification (home/work/other);
Person trips (extrapolated to the entire population);
Demographics.
We know the where and when of >1 billion trips made every day in the US.
Trip Patterns attributes include:
Origins & Destinations;
Time-of-Day / Day-Part Segmentation;
Resident / Visitor Classification;
Trip Purpose Classification;
Home / Work Classification;
Home & Work Locations;
Demographics;
Long Distance Filtering;
Transit zone indicators;
Real-time traffic monitoring.
Supporting Travel and Tourism industries, destination Insights self-service platform enabling market studies. Thus, users can understand insights of visitors to their market – both local/in-market residents and visitors from afar.
Destinations insights include:
Visitor counts by home location (at state, MSA, county, and census tract levels);
Average lengths of stay;
Seasonality trends;
Event impacts;
Pass-Through Trips vs. Daytrip vs. Overnight Trips;
Historical data (back to January 2017).
Activity Density provides direct insight into the living population density heat map or daytime population density.
Activity Density attributes include:
10m, 100m, 1,000m grid cells;
Hourly reporting;
Total number of unique devices per grid;
Duration;
Possible filtering based on Home, Work, Other or transient locations.
POI Insights unlocks an understanding of visitor characteristics for any point of interest in North America.
Properties attributes include:
Trade area development;
Foot traffic count;
Demographic analysis;
POI comparisons;
Custom dayparts;
Frequency and Duration distributions.